Here I am going to use one of my earlier works to explain how is the Logo design proccess that I follow.
For the Shop "El descanso de los Héroes" (Rest for Heroes) we created a very special Logo. I want to explain here too the Logo Design process that I am used to follow.
Original Art
This logo was based on the original work created by Fernando Tasende (Tattoo artist). A friend of the co-owners.
This was a original piece made by hand, for the purpose of the Shop Logo.
Logo Design Process
First I scanned the Original Art. Then I worked on the digitisation of the design as it was. I remade it into vectorial using Inkscape software.
Logo Design – Redesign – Black and White
Based on the first vectorial version, I worked with the co-owners. I made some versions. Until we got the final design that was chosen.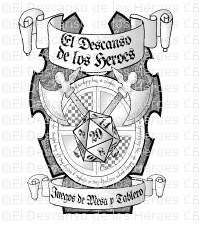 I work first only with Greyscale till we have a final version, so we do not get distracted with colors. It is important to center in the Logo elements and balance.
Final Logo Design
At last, we made some colour tests, to get a design that matched with the business theme. The Shop was medieval themed, so we looked for this kind of feeling in the colours.
And the result was amazing, it was used for everything. From the shop printed signs to key chains. It looked perfect in any size, because it was made in vectorial.
Alternative Logo Design versions not used:
Everytime I make a Logo Design, we make some diferent versions to test wich one is better.
Here you can take a look at one of the alternate versions for this Logo Design, that was quite a diferent line.